Project Template: Learning Languages with Spaced Repetition in an MT-Board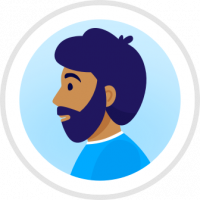 Olaf Roeb
MT Tester, EN Pro
Posts: 121
Star Contributor
A) Board overview
Screenshot 1: Board in the typical appearance
In general terms this board has been started from a learner's perspective: In 2020 I started to intensively learn French and later also the Spanish language. The board does not cover the educator's/teacher's side. Although many years of experience as a trainer/instructor/coach have certainly influenced methods and design, I don't (so far) use it for coaching or designing agendas except my own.
B) Main purposes:
goal setting, organizing tasks and windows of time,
quarterly reviewing and improving the process itself,
daily learning = working on the actual lessons and taking notes (MeisterNote) whether by textbook or self-defined content,
habit management: Keeping streaks of at least 1 daily lesson/task per language
In Spanish🇪🇦, in terms of content it's currently just following the textbook (e-learning), and at this stage very few other sources that offer Spanish texts. Much different, in French (B2-level) it's multi-sources: French🇨🇵 books, wikis, youtube, podcasts, or series on Netflix in either French audio with subtitles or German/English audio with French subtitles. On average, the actual learning time adds up to 2-3 hours a day. Which adds up to 180-270 hours in a three-month period, making efficiency and avoiding procrastination paramount.
C) Section 1-4: In(new) and automated attributing
screenshot 02: ContentIn + 3 sections for automated attributing
Section 1: ContentIn (left) marks the usual Inbox. When first inventing and experimenting with this board I usually created new tasks from inside MeisterTask. With growing experience more and more tasks got started from MeisterNote via Integration, where I start new notes for specific matters or specific grammatical concepts. Usually, a note carries more than one task, but one at least that I always create when opening a new note corresponding to the title of the note.

Sections 2-4 are "automation only" sections, never to carry actual tasks, collapsed usually all the time because their only purpose is to add tags, an assignee (me), and a checklist then move the task forward into the (green) repetition process. Just for this template introduction, I uncollapsed them in this screenshot so you can read the automation descriptions:

yellow: Spanish, Source/Textbook:
blue: French, Source/Textbook: busuu.com
red: YouTube or other media unspecific of language
D) Sections 5-8: Learning, Repetition, and Review in Kanban-style
screenshot 03: The actual Kanban organized progress of learning implemented in 4 green sections:
Every new lesson/content, after first reading and getting a feeling about it, become part of the Repetition and Review-Process:

Rep1(~Repitition1): the card gets automated: due date = today plus 2 days, so that every task I put there has to be repeated within the next two days. After executing rep1 it goes into ..
Rep2: The second repetition of each task I aim to be generally executed within four days from the first repetition: due date = rep1+4days and new tag = rep2

The timing is not trivial, it was also not a personal choice of my preferred way of scheduling. Instead, the choice of 2/4 day windows was rather based on the concept of spaced repetition. I cannot describe the concept here, if you are interested in finding a really good approach, pls just lookup: "A Trainable Spaced-Repetition Model For Language Learning ".
sections 7 and 8: Review and finalize
After finishing the second repetition of a lesson, the task goes into review, where once a week I need to decide which lessons are mastered and which I have to push back into the repeating process.

case a) 🤔still very fuzzy, not able to apply, more time needed:

case b) 😀Content is mostly understood but I still feel some need to repeat once more: (Note: Case b) is a success, something really good, not indifferent)

case c) ☺️Content is learned and I feel confident, being able to apply correctly:
E) Sections 9-12: Goals, Documentation, Progress-Reporting, gamification-elements and general description
screenshot 4
Quarterly planning processes, a quarterly general review of progress, and adapting methods have proven to be working best for me. Maybe monthly or half-year periods work better for others, but in my understanding certainly, a year is way too long to keep up motivation and efficiency.
I also screenshot and task gamification-feedback: Understanding and embracing gamification, 🏆️🏅when being left alone with my PC or tablet/smartphone, was a super important source of daily motivation and keeping habits. Without them, I would have given up long ago.
First I posted this template introduction within @Andrew Lapidus' inspiring board template Kanban for Studying (Chess openings!) 👏If you read that post, this is the same board with a gradually more detailed description at some points of design and methods. Then Misha asked me to open a specific discussion for a template, so I copied that post and edited some descriptive parts.
I really hope this template may be useful for some of you. And please help me with your impressions and thoughts, I am still working on the methodology and the realization in MeisterTask.😄
Happy to share with this community, Olaf👴
Comments
Free Online Courses: